Welcome To Beck Numismatics Rare Coin Appraisals & Dealers
Beck Numismatics Rare Coin Dealers Buying Days
Come meet numismatist Clinton Beck in person and have him evaluate the treasures that you are interested in selling.  If you have a large collection please call to make an appointment at the store of your choice.
Sherwood Park Mall Thursdays 11AM- 4PM
St. Albert Mall Fridays 11AM – 4PM
West Edmonton Mall Saturdays 11AM – 4PM
Downtown 124St – Sundays 11AM – 5PM
Please call your local store to book appointments that require more than 15 Minutes.
Edmonton Rare Coin Dealers & Coin Appraisals
Beck Numismatics Rare Coin Dealers are Edmonton, Alberta's only PCGS Professional Coin Appraisal Grading Service.  We are an authorized rare coin dealer. What this means is that you will receive great advice, service, and valuations under the strict standards of PCGS, (Professional Coin Appraisal Service).  We also have an A+ Rating with the Better Business Bureau of Edmonton.
We are here to answer all questions regarding coin collecting in Edmonton.  We are open 7 days a week to serve your collecting needs.
If you need help with a single coin appraisal or an entire collection, our 30+ years of experience will make your experience exceptional.

We Purchase & Offer Coin Appraisals of Collections.
During covid outbreak, we are opening for purchasing gold and silver transactions for 30 min each day.  Please call to book an appointment.
Our years of experience help you find any treasures in your collection.  Most "amateur collections" will still have significant value due to the silver and gold content of the coins.  Hopefully, we can find some treasure coins that will give you a huge return.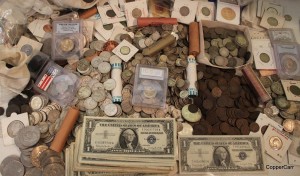 You will need to schedule an appointment with Clinton Beck to have your collection appraised.  There is a fee for appraising your collection. We are the only "PCGS Professional Coin Grading Service Authorized dealer in Edmonton. Please call for a quotation and to set up an appointment with Clinton Beck at (780) 485 9999


At Beck's, we can help you and your family sell your collections.  Please call for more information or visit our estate website at beckestateservices.com.
---
Subscribe to our newsletter
Subscribe to our newsletter today and receive our latest news and exclusive deals straight to your inbox.